National Honor Society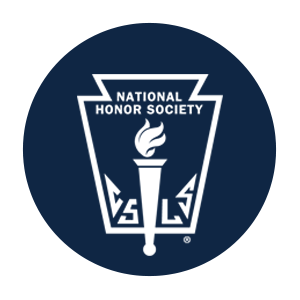 Weatherford High School Chapter of the National Honor Society
Thank you for your interest in the WHS chapter of the National Honor Society.  Below you will find qualifications, contact information and some frequently asked questions.  Read through the information below and if you still have any questions, be sure to contact any of the three advisers listed.
Students in grades 11–­­12 who meet the requirements for membership outlined below are eligible to be invited for membership.
Qualifications for membership are based on the four pillars of NHS
Scholarship
For Weatherford High School, members must maintain at least a 4.0 GPA at the end of the sophomore (and subsequent) year(s).
Service
Once selected, each NHS member will perform 10 hours of community service per semester (with at least two of those hours being devoted to tutoring). Community service begins with the spring after their induction.
Leadership
Student leaders are those who are resourceful, good problem solvers, and idea contributors. Leadership experiences can be drawn from school or community activities while working with or for others.
Character
The student of good character is cooperative; demonstrates high standards of honesty and reliability; shows courtesy, concern, and respect for others; and generally maintains a clean disciplinary record. In other words, any current DAEP placement and/or documented cheating/plagiarism/etc. will be cause for removal for the current year and/or ineligible for induction to NHS.
Students who meet the scholarship requirement will have an opportunity to complete an application (that will be hand-delivered around October 1st) detailing their accomplishments in and commitment to service, leadership, and character.
Understanding the Obligations of Membership
Students who accept membership and are inducted into the Weatherford High School chapter should be aware of the time and commitment involved with this honor. For example, there will be chapter meetings. Members also must participate in chapter and individual service projects to benefit the school and community. Contact the advisers to obtain a full list of the obligations of membership for the WHS chapter.
WHS Advisers
Meagen Loveland
FAQ's:
When do invitations go out?
Invitations will hand-delivered to students soon after the end of the first grading period or close to October 1st.
When is the Induction Ceremony
Induction Ceremony is usually around the 1st Monday in November (in the WHS Durant Auditorium).
I am a current NHS member, what happens if I do not perform the requirements to maintain my status an NHS member?
You will receive a letter in October detailing what must be done to maintain good standing.  Letters might also be sent out in January of your senior year with details for those who are in jeopardy of losing good standing.
How much are NHS dues and what is the money used for?
Local NHS dues are $20 per junior and senior year (we collect for both during the junior year and then no dues will need to be submitted as a senior, except new senior inductees) and they are used for membership fees, supplies, patches, and graduation stoles.
Can I carry over community service hours from the summer or previous semester?
Yes, five hours can be carried over from the summer and two hours can be carried over from the fall to the spring.
What if I am a senior transfer student who attended a school which operates in a standard 4.0 system?
Students transferring in as seniors who do not meet our GPA criteria due to a differing GPA point system at the previous school will be inducted based on the GPA they acquire from classes taken solely at WHS.